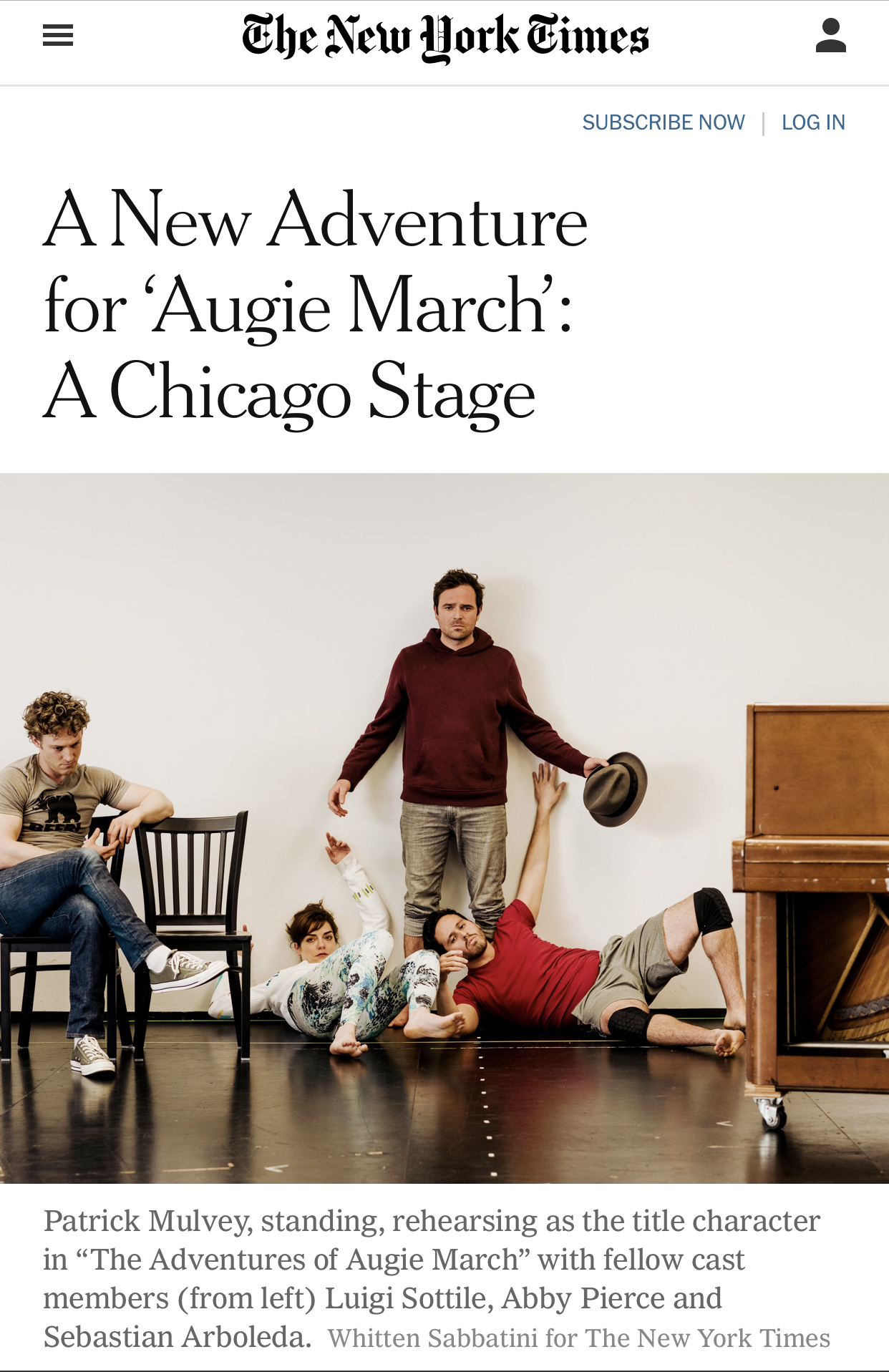 Acting in the World Premiere of "The Adventures of Augie March" adapted by Pulitzer Prize winning author David Auburn from the Nobel Prize Winning book by Saul Bellow.
... Pierce's staging allows the intertwining stories of these women to spin out with truthfulness and moments of silence that still speak that truth.
-Kerry Reid, Chicago The Chicago Tribune
Trailer for "Eat Your Heart Out". Directed, co-written, and produced by Abby Pierce. Co-written by Julia Lederer. Executive produced by David Auburn.
About
Based in Chicago. Owned by two dogs and a cat. Navigationally challenged. Making whatever is most curious at that moment. Perpetually renovating homes with blind optimism and youtube tutorials. Creating theater with female inmates at Cook County Jail with EPIC. She/her/hers.
Directing
Theater - Hopelessly Devoted by the incredible poet/rapper/musician/playwright/novelist Kate Tempest April 2019 at Piven Theatre and will tour local jails and prisons
Film - Eat Your Heart Out written by Abby and off-beat genius Julia Lederer, set to premiere 2019, produced by 71 DN
Acting 2018/2019
The Adventures of Augie March adapted by Pulitzer Prize Winner David Auburn, directed by Charles Newell - world premiere at Court Theatre
Proven Innocent, TV show on Fox playing Cassie Lintz
Dreaming Grand Ave, feature film directed by Hugh Schulze
Workingman, feature film directed by Robert Jury, 2018
Jeannie Becomes a Mom, music video for Caroline Rose, directed by Amanda Speva
I Hate Chicago, a music video for Laura Jane Grace and the Devouring Mothers, directed by Hannah Welever
Eat Your Heart Out, short film directed by Abby Pierce
The Burghers of Calais, directed by Ron OJ Parsons, Court Theatre Spotlight Series
Greetings From Moscow! A Love Story, directed by Elly Green, Timeline Theatre, Playwrights Collective Festival
Keep That Same Energy by Ike Holter, directed by Kaiser Ahmed - Living Newspaper Festival with Jackalope Theatre
Dad Man Walking TV Pilot by John O'Brien, directed by Clare Cooney
Teaching
Ensemble Play In Cook County Jail (EPICC) - devising theater with maximum security inmate women
Cove - exploring storytelling with neurologically diverse and developmentally exceptional students 13-18 years old
Court Theatre Education Initiative - exploring the work of August Wilson with various CPS high schools on the South West side of Chicago
Piven Theatre - working with students from 4th grade to adults on story theater, improvisation, scene study, monologues, and devised theater
Writing
The web series The Exquisite Corpse, in collaboration with OpenTVCreated and was written by Cassidy Slaughter-Mason and Abby
Co-writer of the film Eat Your Heart Out